Clopay Garage Doors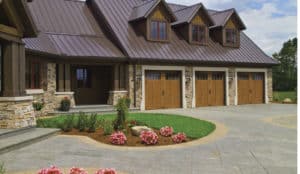 Any number of home improvements can add value to a house. But it's unlikely many can match the beauty, security and value that comes with the installation of a new Clopay garage door. The same goes with Clopay commercial outlets, where security against theft and other invasions is a must. And with Clopay you don't have to worry about how to proceed with new garage door plans. We can help. Anything that calls for expert advice regarding garage doors is best delivered by the experienced staff at Clopay Garage Doors.
Clopay is North America's leading residential garage door manufacturer and a preferred supplier of commercial overhead sectional garage doors and coiling steel doors. Clopay offers a broad assortment of beautiful, energy efficient residential garage doors to fit your home style and your budget.
Here at JV Garage Door we stand behind all of our products. That is why we choose quality products such as Clopay to represent the quality workmanship that you receive.
At JV Garage, we specialize in advising customers about what it takes to fit the best garage door to their needs. That may not always mean we make a sale. But it does guarantee that clients can rely on us to always present straightforward, honest answers to their questions. Here at JV Garage we believe that a major purchase, such as a new Clopay garage door, demands buyers know exactly what to expect. Living up to that idea is our everyday goal. Find out more about Clopay online at www.clopaydoor.com
If you would like an estimate or have any questions about our Clopay products you can contact us or give us a call at 816-875-8872.