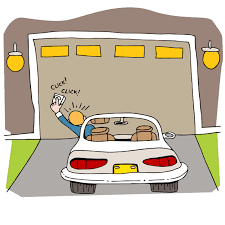 It goes up. It goes down. It responds to your commands and does its job without asking. It protects your home; protects your cars; protects your possessions; protects your family. And it does this day after day without anyone giving it any thought.
Your garage door is a useful piece of home equipment. You rely on it every day without even realizing it. When you push the button, you expect that the door will respond. After all, it has for years. Why should it stop now?
Well, that's a good question, and it has a simple answer. Your garage door is just like every other piece of machinery in your home. It runs on parts that get old with time and need to be repaired or replaced. And, as a homeowner, you generally won't know it needs repairs until it's too late and either an accident has happened or the door has stopped obeying your commands.
We've talked before about general garage door maintenance, but it's especially important to consider the lift system. This specific equipment is, for the most part, what determines the function of your door itself. And in order to prevent breakdowns and accidents, it needs to be evaluated through regular maintenance.
At JV Garage Door, we know lift systems. It's our business, and we are trained to spot areas of wear and tear, potential hazards and faulty equipment. Through our maintenance services, we can come to your home and inspect and treat your garage door and its lift system to make sure your door isn't becoming a safety hazard.
One of our most constant messages to clients and customers is that their garage door must be checked regularly in order to prevent disaster. According to NEISS Library numbers, more than 20,000 garage door-related injuries happen every year. Because the equipment gets taken for granted so often it can become a ticking time bomb waiting to go off at the most inopportune moment. Whether that is simply during the middle of a rainstorm when you've got bags of groceries to carry in, or, worse, when your kids are playing under or around it, a malfunction in your garage door's lift system is never something you want to experience. And you certainly don't want to be one of the statistics.
In order to prevent frustration and disaster, we encourage you to call us at JV Garage Door to set up an inspection. We'll conduct a thorough examination of your door's parts from the lift systems to the springs and rollers and make sure it is safe and functioning properly. By using professional equipment, our trained staff can spot even hard-to-detect issues, and we will be able to service any potential threats or current problems, saving you and your family from future accidents and frustration.
As part of our commitment to customer service, we always offer free estimates, and you never have to worry about being pressured by our team. Just know that we have your best interest in mind and will work with you to discover how we can help protect you and your family through our garage door services. To find out more about how we can help you, call us today!
SaveSave